MAKINEN has secured a contract with China Merchants Heavy Industry Co. Ltd. to construct the interiors of the seventh and final vessel in the SunStone Ship's Infinity Class Expedition vessel series. MAKINEN Newbuilding has been the sole interior contractor for the last six vessels in the series: Greg Mortimer, Ocean Victory, Ocean Explorer, Sylvia Earle, Ocean Odyssey, and Ocean Albatros.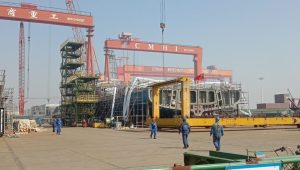 The upcoming vessel, currently referred to as "197," will be a long-term charter to Australia-based Aurora Expeditions. The steel cutting is scheduled at the end of this year, and the interior building phase is set to begin in the summer of 2024. The "197" is aimed to be delivered in fall 2025.
Stay tuned for updates as the construction progresses, and witness the birth of the vessel as it prepares to set sail.
For inquiries, please contact Timo Mouru (timo.mouru@ismakinen.com), Director of Newbuilding.